Know that feeling of spending a lot of time on high quality content on your website but it gets out-ranked by low quality websites? Google feels ya! With their new "Helpful content update", Google will improve the rankings of original, people-first, quality content. In this blog we'll briefly go through their update.
Helpful content update
Google published in a blog post on 18 August 2022, that they'll refine their Google search results. They will do this in an effort to decrease the rankings of low-quality web pages and increase those of high quality.
The problem Google's search engine faces are that irrelevant websites sometimes rank higher than useful websites for the given search query. For example, when websites:
Are created by bots showing aggregated data
Are simply not use- or insightful
Contain misleading information, or just unexpected content
Are highly SEO optimized but (only) made for clicks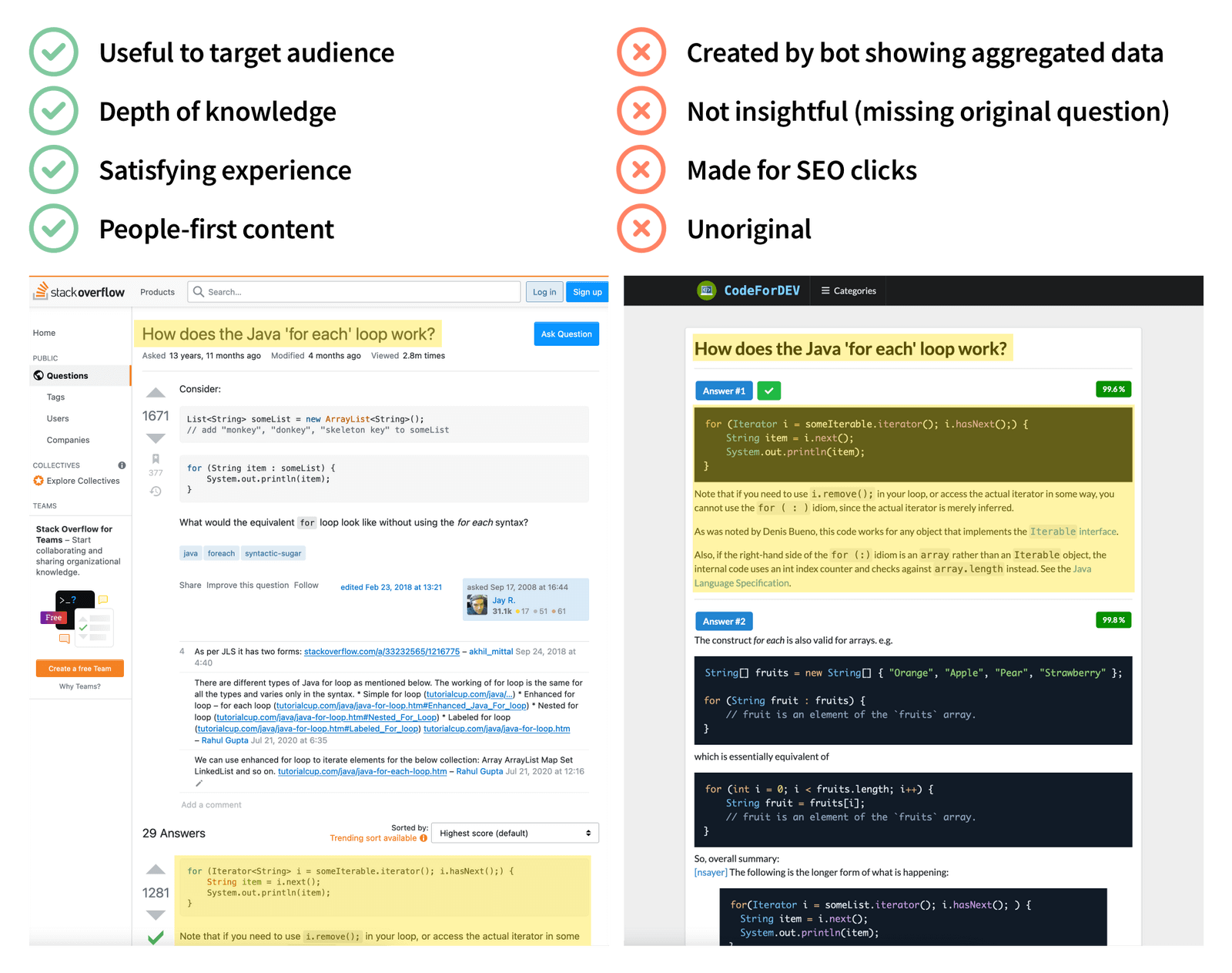 The goal of this update is that content created to rank well but contain unoriginal, low-quality content, are going to be down-ranked. So-called "people-first" content will be getting higher rankings.
Create people-first content to rank higher
But what is people-first content? According to Google it is to create content for people and not for search engines. However, you should still be following SEO best practices. "People-first content creators focus first on creating satisfying content, while also utilizing SEO best practices to bring searchers additional value."
Creating people-first content, means you need to check the following:
Usefulness: Content should be useful to the target audience of your website.
Knowledgeable: Content should be insightful. It should contain some "depth of knowledge", showing that it is written by someone who has actual knowledge of the subject.
Purpose: Your website should have a target, goal, or purpose.
Inform: Visitors should be able to learn something based on their search intent, so it will help them.
Satisfy: Visitors should have a satisfying experience
Follow Google's advice and best practices: Long-standing advice, guidelines, and Google's SEO Starter guide.
If you are complying with those points, then Google probably likes your content and wants it to rank higher.
What NOT to do
Opposite to what you should do, there are also things you shouldn't do. If you meet one of the following points, then it's an indication you need to improve your website:
Made for search engines: Content is firstly made for search engines and not really to be useful for people
Many different topics: Publishing content about a lot of different topics with the hopes that some of them will perform greatly.
Automated content: Posting content that is (partly) generated to create a lot of content about different subjects
Irrelevant trending topics: Posting about trending stuff even though it is not relevant to your target audience.
Dissatisfying: Leaving visitor with a dissatisfying feeling because they did not get answers based on their search intent.
Uneducated in niche: Creating content for a certain niche just to get traffic, even though you don't really have much knowledge about that niche.
Clickbait: Not answering questions you promised to answers.
In addition to those points, an important thing to keep in mind is that even if you have a lot of high-quality, people-first content, but still have a relative high amount of unhelpful content, you are less likely to rank high. This means that you should remove your unhelpful content so your actual helpful content can shine brighter.
Conclusion
Google's helpful content update will be rolling out this week (22 August 2022) and can take up to two weeks. It will initially be applied to English searches but will be expanded to more languages in the future.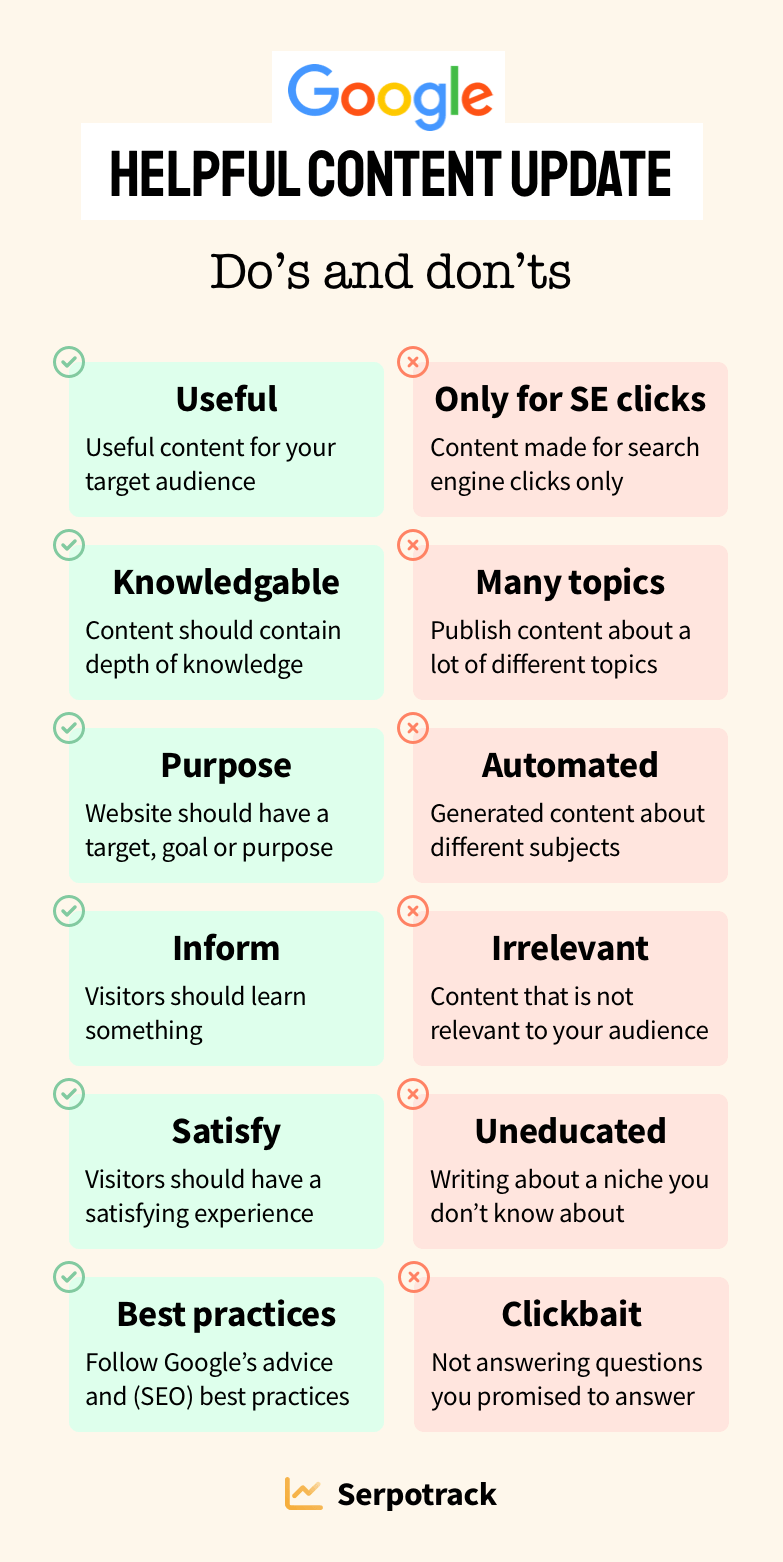 Carefully read the do's and don'ts as summarized in this post. To see if it has any effect on your website rankings, you can use a SERP (search engine results page) position tracker, like ours (Serpotrack) to keep track of this. If you specifically want to track your rank changes based on this update, we recommend you start tracking your positions as soon as possible.