.academy, .college, .education, or simply .com for your new learning platform? There are countless of domain extensions to choose from nowadays! Eventually, no matter the extension you pick, you want your website to rank on top of the Google search results. But can your domain extension (TLD) affect your SERP position?
Types of top-level domains
Domain extensions, otherwise known as TLDs (top-level domains), can be classified into five groups: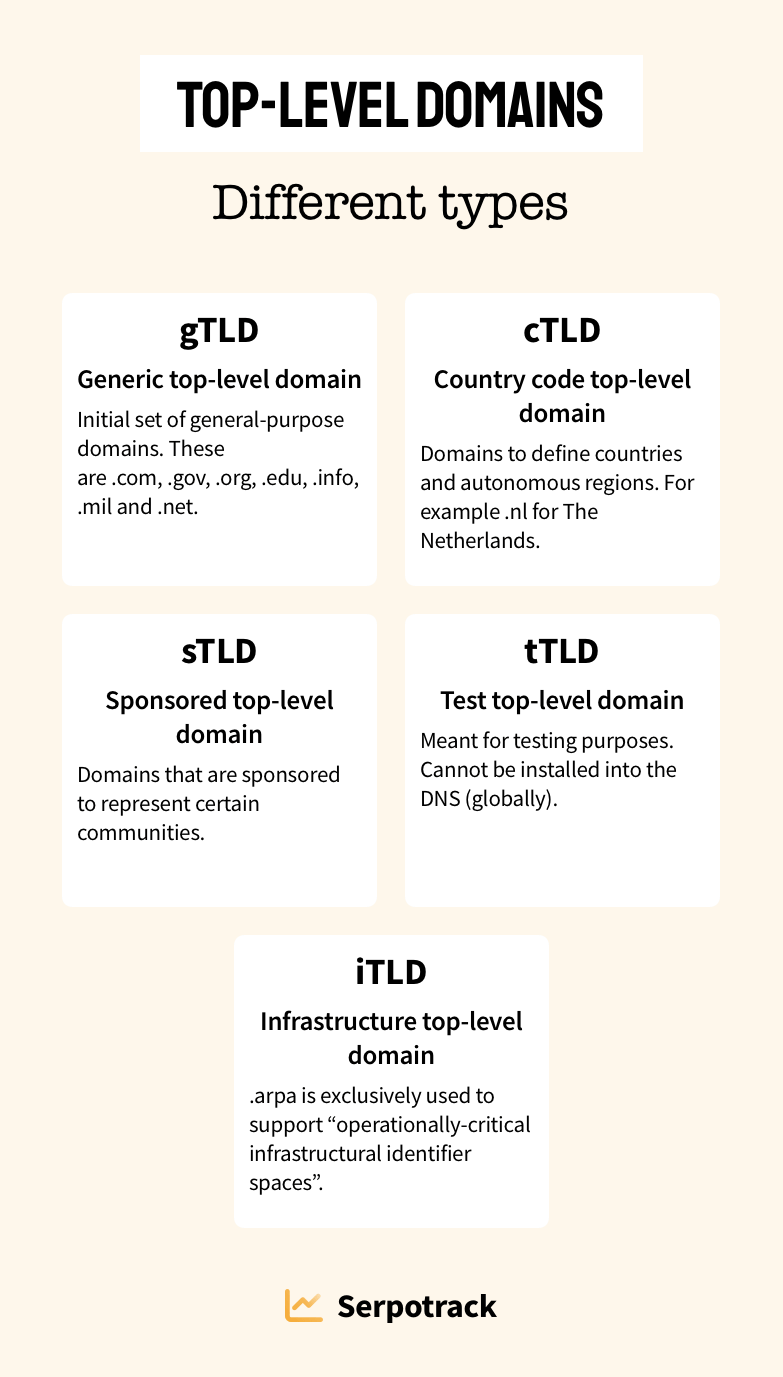 gTLD (generic top-level domain): Initial set of general-purpose domains. These are .com, .gov, .org, .edu, .info, .mil and .net.
ccTLD (country code top-level domain): Domains to define countries and autonomous regions. You can use it to show that your organization is in a certain country. For example, .nl for The Netherlands.
sTLD (sponsored top-level domain): Domains that are sponsored to represent certain communities. For example, .museum is sponsored by the Museum Domain Management Association (MuseDoma) and can only be used by museums.
tTLD (test top-level domain): Meant for testing purposes. For example, .test cannot be installed into the DNS (globally).
iTLD (infrastructure top-level domain): .arpa is exclusively used to support "operationally-critical infrastructural identifier spaces".
There are roughly 1,500 different top-level domains, according to ICANN and IANA. So, to pick one for your website can be tricky. But also, can the one you pick affect your SERP position?
Does TLD affect SERP ranking?
In general, you don't need to worry if you pick an unconventional TLD. According to Google, all TLDs are treated the same. So, your TLD won't give you any advantage of disadvantage in the search results.
However, there are some caveats. We'll discuss these in the next section.
Things to keep in mind when choosing a TLD
Even though Google does not look at your TLD to determine is SERP rank necessarily, there is an exception. Search engines might look at your ccTLD (country code top-level domain) to determine your country. Meaning that if a search engine users filters on a country, the results might be affected by the ccTLD.
Conclusion
Your TLD does not affect your search engine results page (SERP) position. Google treats all TLDs like any other. However, when it comes to location specific result pages, your ccTLD might affect your position. But don't let that get in the way of picking a suitable TLD. After all, Google has multiple methods to deal with multi-regional websites.